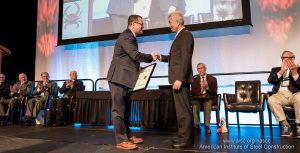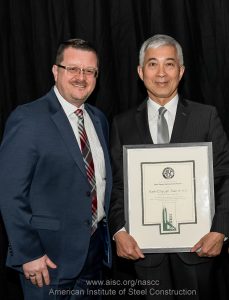 蔡克銓教授因長期與美國學者合作,從事鋼結構設計規範中多種耐震構架系統的大型抗震性能驗証實驗,於2018年4月11在美國馬里蘭州巴爾的摩市,接受美國鋼構造協會理事長Dr. Charles J. Carter,在超過五千人與會北美洲鋼構造研討會中頒發 "特殊成就獎"。
The AISC Special Achievement Award recognizes individuals who have demonstrated notable achievements in structural steel design, construction, research or education. It honors those who have made a positive and substantial impact on the structural steel design and construction industry. This year's award recipients include:
Keh-Chyuan Tsai, SE, PhD, professor of civil engineering, National Taiwan University. Tsai is being recognized for his extensive work with U.S. researchers to conduct large-scale system level testing of structural steel seismic force resisting systems, leading to system level verification of many of the AISC 341 provisions.
https://www.aisc.org/pressreleases/press-releases/aisc-to-honor-12-leading-design-and-construction-professionals-at-nascc-the-steel-conference/#.Wtf4HciFM2w